The abstract submission deadline for the SEOUL ICM 2014 has been extended to March 14, 2014! If you have not submitted abstract(s) yet or want to modify the existing submission, please take this opportunity to share your research with participants of the SEOUL ICM 2014.


The SEOUL ICM 2014 Organizing Committee has released the serial numbers to the NAMUM grantees. This number can be used as the code for registration and dormitory reservations. For more information on the program, please click here.

On-line dormitory reservation for the NANUM 2014 (including TOGETHER) grantees is available here. Exclusive rates for the NANUM 2014 (including TOGETHER) grantees have been guaranteed for reservation until May 10, 2014. From May 11, 2014, all participants may proceed with remaining dormitory reservations, yet number of available rooms may be subject to change.

The SEOUL ICM 2014 Exhibition offers great opportunities for organizations and companies to promote their activities, products, programs, services or organization. Exhibition Prospectus and Application form are available at the official website. The application for the Exhibition is to be submitted to the secretariat via email at es@icm2014.org no later than May 31, 2014.
*10% VAT include
Category
Booth Size

Rate (USD)
Rate (KRW)
Commercial
Exhibitions
Standard booth
3m * 3m
5,000
5,500,000
Raw space
3m * 3m
5,000
5,500,000
Non-Commercial
Exhibitions
Academic booth

3m * 2m

2,500

2,750,000
*Each booth organizer is entitled to two badges per booth.

The SEOUL ICM 2014 welcomes any organizations or companies wishing to support this event. Package sponsorship and exclusive sponsorship are available and they offer various compensation models to meet different needs and to maximize exposure during the Congress. For more information, please visit the official SEOUL ICM 2014 website.

Please make sure to register before May 10, 2014 to take advantage of the reduced registration fees. For more information on registrations, please click here.

Online hotel reservation is available
here
. Please visit the official website to secure your room. Reservations in advance are highly recommended, as August is a high season in Korea.

For SEOUL ICM 2014 participants, we made a special selection of optional tours during congress period. Participants will be able to appreciate Korea`s rich history and fascinating landscape while refreshing their hardworking minds and bodies over splendid scenery and historical sites. The registered participants and the accompanying persons may book the tour program in advance. During the Congress, a number of guided tours of Seoul and walking tours will be offered. Tour programs will be available for booking in March at the official website.

Seoul offers a wide range of family-oriented activities and programs. Join the SEOUL ICM 2014 with your family and have a memorable time with your loved ones in Seoul. For more information, please click here.






Abstract Submission Close
March 14, 2014
Paper Submission Close
April 13, 2014
Notification of Abstract Acceptance
April 10, 2014
Early Advance Registration Close
May 10, 2014
Dormitory Reservation Close
May 10, 2014

(for NAMUM grantees)
June 10, 2014

(for All participants)
Hotel Reservation Close
July 10, 2014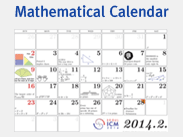 Ms. Heeeun CHO
E-mail: info@icm2014.org
Tel.: +82-2-563-2014
Fax: +82-2-563-2022

Ms. Ellie KIM
E-mail: abstract@icm2014.org
Tel.: +82-2-6288-6331

E-mail: icm2014proceedings@
kyungmoon.com

Ms. Jani CHOI
E-mail: es@icm2014.org
Tel.: +82-2-6288-6311

Ms. Amy CHUNG
E-mail: registration@icm2014.org
Tel.: +82-2-6288-6345

Minsung H.B.
E-mail: hotel@icm2014.org
Tel.: +82-2-6288-6361

Ms. Heeju LEE
E-mail: dorm@icm2014.org
Tel.: +82-2-6288-6327